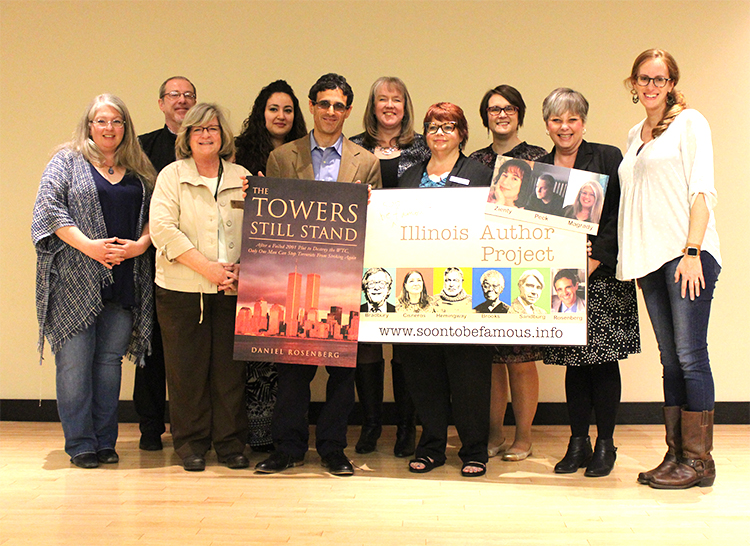 The Soon To Be Famous Illinois Author Project is delighted to announce this year's winner, author Daniel Rosenberg and his novel, The Towers Still Stand.
Rosenberg was one of three finalists, selected from a pool of 66 entries, in this year's contest. The three finalists were:
The Towers Still Stand
Daniel Rosenberg
Publication Date: December 18, 2016
Sponsoring Library: Highland Park Public Library
Take The Donut
Annie Hansen
Publication Date: November 1, 2016
Sponsoring Library: Big Rock Library
The Bard
Karen Bedore
Publication Date: April 21, 2015
Sponsoring Library: Aurora Public Library

The winner was announced during an exciting ceremony held at the Gail Borden Public Library in Elgin, IL, on Wednesday, April 12, 2017. Attendees heard about the history and future of the project, including the new partnership with BiblioBoard, heard excerpts from the three finalists' books, and cheered as Rosenberg was named this year's winner. Didn't make it to the ceremony? Watch it online on the Gail Borden website!
More about Daniel Rosenberg and The Towers Still Stand:
What if the September 11 attacks had failed, and Americans remained ignorant of the hijackers' ultimate goals? In this alternate history, several hijackers and their leaders survive and escape a botched September 11 plot and plan a second attempt on the towers. Only one man in the government and an aggressive journalist suspect what might be afoot, but how can they convince a skeptical nation that the World Trade Center is in danger? These two find themselves in a deadly battle against time and the complacent nature of the US government. If they fail, the World Trade Center towers could fall. The Towers Still Stand is a chilling alternate history thriller.

A professional journalist, Daniel Rosenberg's career includes stints writing for the Wall Street Journal and Barron's. He currently writes about financial markets for a major brokerage firm. Rosenberg is married, has two sons, and lives in Highland Park, Illinois. The Towers Still Stand is Rosenberg's first novel, inspired by the events of Sept. 11. The book asks the question, what might have happened had the Sept. 11 plot failed and the hijackers remained at large with the country still ignorant about their intentions?

Keep watching our website to learn more about Rosenberg and for details on upcoming appearances at a library near you!