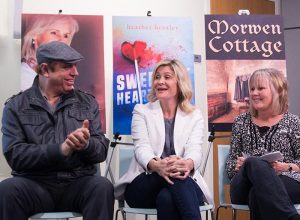 Drumroll please – the librarians have spoken. The 2018 winner of the Soon to be Famous Illinois Author Project is Chicago suburbanite author Heather Bentley. Nominated by the Fox River Grove Memorial Library, her book "Sweetest Heartbreak", which is described as a story of "when naïve, humble, and beautiful meets arrogant, brash, and handsome," was selected as the 2018 winning entry. This statewide librarian-curated contest is in its fifth year and Bentley's book was the first winner from the romance genre. Judges had high praise for "Heartbreak." A sampling of those comments includes –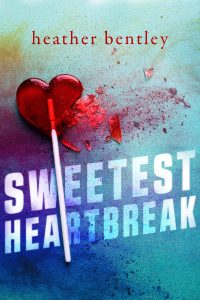 The story was complex with many twists and turns and kept you guessing on what would happen next and whether any of the characters would have a happy ending. The ending was all you could have wished for the three best friends.
Bentley's language … is the most engaging and expressive.
The writing style is gripping and pulls you in. Appeal for those who want a contemporary read and those who want something about love and friendship.
Daniel Rosenberg, the 2017 winner for his book "The Towers Still Stand," talked to this year's finalist authors. He said of his experience as the winning author, "It is a life changing experience. It is so satisfying to go to different libraries to meet different readers who have read your book and to see your book through their eyes."
After receiving her award, author Bentley said, "I am so proud of it. I'd like to thank the cover artist, editor, criticism partner and awesome beta proofreaders. It takes a lot of people to make a good book."
All Illinoisans may read "Sweetest Heartbreak" at no charge at this time, via an app investment made by the Reaching Across Illinois Library System. By downloading the free Biblioboard app from either the Apple or Google Pay store and then navigating to Indie Illinois to the Romance genre, this geo-location based app makes the 2018 winning book available to all to enjoy. Click this link to get started reading.
The reveal event included two other major library – self-published author collaboration announcements for this year. CEO of partner Biblioboard, Mitchell Davis, not only presented Bentley with a giant check for $1,000 for her win in Illinois; he also announced a new national exposure opportunity for this year's winner.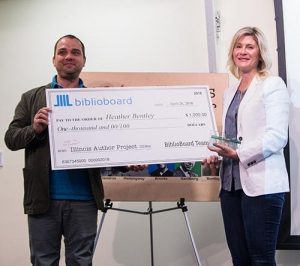 Contest Between the States
Davis said, "Library professionals in other states are out there working with their local authors." He further explained that Bentley's book will compete with the winning authors in seven other states this fall. Professional library staff in Illinois, California, Wisconsin, Ohio, Kentucky, Virginia, Minnesota and Missouri will choose their states' winning authors by fall of 2018 and Library Journal will judge the first contest of self-published authors between the states.
New Self-Published Author Manuscript Contest
In addition to announcing the inter-state competition, the Soon to be Famous committee's work with self-published authors will open another cutting edge chapter with the revelation of the new Manuscript Contest which will provide professional support to a talented writer who desires to turn their manuscript into a publishable book. Starting this fall, self-published authors may enter a completed manuscript to be judged again by library professionals. In 2019, the winner of this contest will receive professional editing and cover art, again courtesy of partner Biblioboard. The winner will also be automatically entered into Round 2 of the 2019 Soon to be Famous Illinois Author Project contest. For more about the contest, scheduling information for Bentley and the upcoming Manuscript Contest, please visit, soontobefamous.info.
About Heather Bentley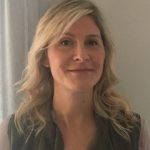 Heather Bentley grew up in the western suburbs of Chicago, reading Judy Blume and riding her bike to Dairy Queen. Her love of writing started early, when she would fold and staple scrap pieces of paper together, creating books and even illustrating them. But it wasn't until after having her children that she was able to delve back into writing, eventually setting a goal to hit publication in a year's time. Heather continues to live in the Chicago suburbs with her husband and three boys. She is also the author of contemporary romance titles, "Beautiful Lies" and "Sweetest Heartbreak."
Past Winners of the Soon To Be Famous Illinois Author Project:
You can also read many of these past winners for free by clicking this link.
About Biblioboard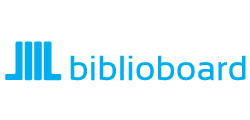 Biblioboard is a hybrid software-media company dedicated to keeping libraries at the forefront of their communities in an increasingly digital age. They are a passionate group of software engineers, product managers, editors and innovators committed to providing the best patron experience possible at a sustainable cost to the library. They are the creators of BiblioBoard, the PatronsFirst™ digital library, which works elegantly across all mobile and web platforms and offers unlimited, multi-user access to patrons around the globe. Learn more at http://biblioboard.tumblr.com.
About the Illinois Library Association
A professional membership organization that represents Illinois libraries and the millions who depend on them. Founded in 1896, it is the third largest state library association and a chapter of the American Library Association.
About the Reaching Across Illinois Library System
RAILS provides delivery service to support Illinois' vast interlibrary loan program and technology support for more than 600 libraries' shared online catalogs. Its services include continuing education and consulting resources to library employees and trustees, as well as e-book services, group purchases, and vendor discounts.
About the Illinois Heartland Library System
The Illinois Heartland Library System (IHLS) is a not-for-profit library system providing delivery and automation (online catalog software) to the libraries of southern and parts of central Illinois, as well as certain grant program services, such as the Cataloging Maintenance libraries statewide.
About the Soon to be Famous Illinois Author Project
The Soon to be Famous Illinois Author Project invites all Illinois authors of self-published adult fiction to submit their books through their local libraries to be evaluated by a panel of librarian judges. Developed by a group of library marketing professionals, the Project is an effort to demonstrate the power of libraries and librarians to seek out and promote high quality titles from the rapidly growing world of self-publishing. The project is managed and judged by library professionals from across the state of Illinois. Learn more at soontobefamous.info.
The Soon to be Famous Illinois Author project is being coordinated in collaboration with the Illinois Library Association (ILA) and Reaching Across Illinois Library System (RAILS) and is supported by the American Library Association Digital Content Working Group, the Public Library Association (PLA), and the Illinois Heartland Library System.
Soon to be Famous Committee Members
Julie Stam, Eisenhower Public Library District
Donna Fletcher, Donna Fletcher Consulting
Sue Wilsey, Helen Plum Public Library
Nikki Zimmermann, Reaching Across Illinois Library System
Eva Baggili, Chicago Ridge Public Library
Jeffrey Fisher, Fountaindale Public Library
Carol Kania Morency, Mount Prospect Public Library
Kate Buckson, La Grange Park Public Library
Denise Raleigh, Gail Borden Public Library District